Yesterday marked the 80th anniversary of New Zealand's worst naval tragedy, when HMS Neptune struck mines off the coast of Libya and sunk with the loss of all but one of her 764 crew.
One hundred and fifty New Zealand sailors went down with the ship.
The Leander-class cruiser HMS Neptune, with two other cruisers and an escort of four destroyers, had sailed from Malta to intercept an Italian supply convoy carrying Panzer tanks, troops and supplies bound for Tripoli to support Rommel's Afrika Corps.
At 0100 on 19 December 1941, Neptune steamed into an uncharted deep-water minefield at 24 knots and triggered a mine. As she reversed to get clear, she exploded two more that wrecked her propellers and steering gear. She was then stopped, disabled and down by the stern. A destroyer, HMS Kandahar was preparing to come to the aid of the stricken Neptune but also struck a mine and subsequently sunk with the loss of 77 lives.
At 0400, Neptune drifted into and detonated a fourth mine. She quickly rolled over and sank.
Only 16 men survived the sinking including the Commanding Officer and one New Zealand rating, Able Seaman James Quinn of Wellington. However, all but one succumbed to thirst and exhaustion over the next five  days. The sole survivor, Able Seaman Norman Walton, had spent three days in the water and two on a raft before he was rescued by an Italian torpedo boat on Christmas Eve and interned in a POW camp until he was released in 1943.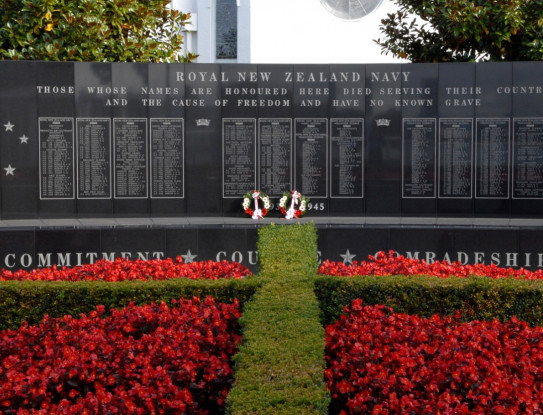 The four weeks leading up to, and including, the loss of HMS Neptune was a disastrous time for the allies at sea. Some of the other notable losses included:
19 November – the Royal Australian Navy's light cruiser HMAS Sydney was sunk with all 645 crew in a battle against the German auxiliary cruiser Kormoron off the coast of Western Australia.
24 November – the light cruiser, HMS Dunedin, was hit by two torpedoes from a German Uboat off Brazil and sank with the loss of 419 of her crew.
25 November – the battleship HMS Barham was hit by torpedoes from a German U-boat in the Mediterranean and sunk with the loss of 862 officers and ratings.
27 November – HMAS Parramatta was hit by a single Uboat torpedo off Tobruk and sank within minutes taking 138 of her crew.
7 December – the United States Navy's Pacific Fleet was crippled by the Japanese surprise attack at Pearl Harbour with 19 ships sunk or seriously damaged. Over 2,000 sailors lost their lives. They were all legally non-combatants as there was no state of war at the time of the attack.
10 December – the battleship HMS Prince of Wales and battlecruiser HMS Repulse were sunk by Japanese torpedo bombers off Malaya with 840 sailors losing their lives.
15 December – the light cruiser HMS Galatea was torpedoed and sunk off Alexandria with the loss of 469 crew.
19 December – only hours after HMS Neptune went to the bottom, two Italian human torpedo craft mined and seriously damaged HMS Queen Elizabeth and HMS Valiant in the Port of Alexandria putting the two remaining battleships in the Mediterranean fleet out of action for many months.
Over 30 days, 30 allied naval ships were either sunk or seriously damaged with a loss of over 6,500 sailors. Little wonder that this string of disasters led Winston Churchill to comment "The full horror of the news sank in upon me. There were no British or American capital ships in the Indian Ocean or the Pacific. We were weak and naked."
The names of all 150 New Zealand sailors lost on HMS Neptune, are recorded on the Memorial Wall inside the Devonport Naval Base and on cenotaphs and war memorials throughout the country.
There is still no positive identification of any known wreck on the Mediterranean seabed as being that of HMS Neptune.
Article courtesy of NZDF.