Planning a residential building project in Wellington is now faster and easier thanks to an award-winning new interactive online tool launched by the city's council.
Resource Consent Check was launched in late January to allow Wellingtonians to quickly and simply check whether a resource consent is needed for their residential building work.
It's now picked up a prestigious national prize, winning The Best Practice Award in Strategic Planning and Guidance at the recent New Zealand Planning Institute awards.
The tool, which is in its first release, guides users through a series of questions, then compares the zone your property is in and the details of your planned work against the District Plan.
It brings together the wide range of planning rules into one interactive guide so that homeowners and developers don't have to source and interpret the plan as it applies to their property.
It then provides targeted advice to give an indication of whether or not you need to apply for a resource consent.
If you do need consent, Resource Consent Check will show you how to apply and what to include in your application.
The Council processes about 900 resource consents per year, with about 50-60 percent for residential property, which is what the tool is specifically designed for.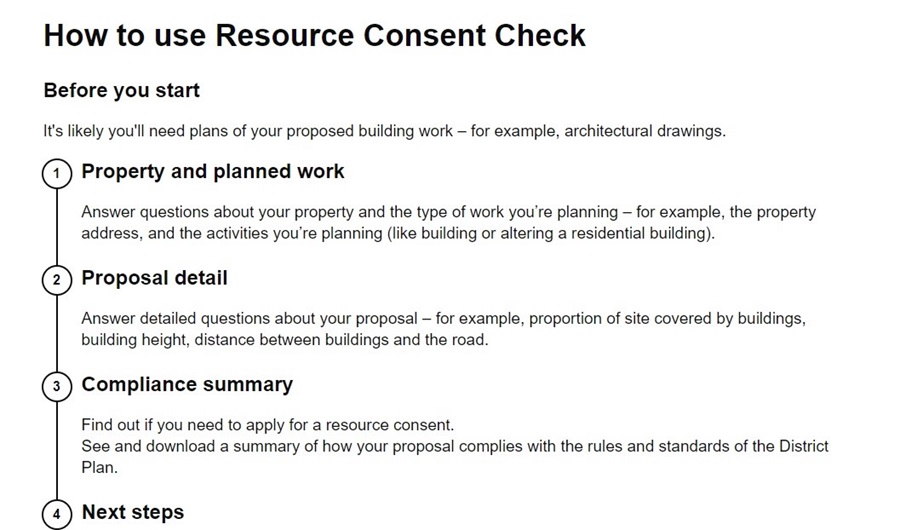 Council Chief Planning Officer, Liam Hodgetts says that early feedback on Resource Consent Check has been excellent, with users saying the tool greatly simplified the process, and that they'd happily use it again.
"We looked at this whole process from a customer-centric view, starting with in-depth research into what was working and what wasn't from the perspective of both our customers and our staff," Mr Hodgetts says.
"We learnt we needed to improve in key areas, including making it easier for our customers to understand what they need to do to provide us with quality consent applications that can then be more efficiently assessed by the team."
More than 20 people, including homeowners, planning consultants and architects, helped with testing of the tool during its development.
Their feedback helping to shape the design, with later testing helping to refine the user experience.
"This is a great example of Council listening to the customer to find out what we can do better to help them, then coming up with a unique and innovative solution that makes everyone's lives easier throughout what can be a pretty daunting task," he said.
This first release is limited to District Plan rules related to residential buildings and earthworks, although the Council will be monitoring how it's being used and what value it provides to users before extending it to cover more of the District Plan.
The tool does not ask for any personal information, and the Council will not see the information you enter.
A resource consent is a written decision from the Council about something that may affect the environment or your community, for example, building a deck close to a property's boundary.
For more information, and to see if Resource Consent Check will work for your residential building project, visit consentcheck.wellington.govt.nz.