A Christchurch City Council-funded trial of an innovative new method for improving water quality in rivers and streams is showing promising results.
The Council, through its Smart Christchurch programme, has been supporting University of Canterbury PhD student, Ngarie Scartozzi (pictured), to test her eClean Bioreactor invention.
Ms Scartozzi designed the eClean Bioreactor to remove nitrates and other contaminants from waterways. The low-cost, solar powered unit uses a collection of bacteria to break apart nitrates, phosphates and E. coli particles from water as it filters through. The water is also oxygenated as it is returned to the waterway.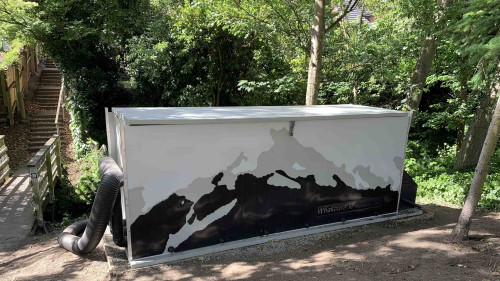 This e-Clean Bioreactor (pictured) is being trialled at the headwaters of the Ōtākaro Avon River.
Since late 2021, an e-Clean unit has been trialled at the headwaters of the Ōtākaro Avon River, in Corfe Reserve.
Ms Scartozzi says results from the first five months of the trial have been positive.
"From December to April we experienced a 50 to 95 per cent reduction of nitrates, improved water clarity, increased dissolved oxygen and a decrease in both conductivity and turbidity."
"The system is also successfully removing heavy metals like zinc, copper, lead and cadmium from the water," says Ms Scartozzi.
The eClean Bioreactor trial is being funded by the Smart Christchurch programme, which investigates and supports the development of new tools and technologies to address the issues facing the region.
"The trial results look really promising to date. We think the eClean Bioreactor has the potential to have a positive impact on the health of our waterways," says Smart Christchurch Manager, Michael Healy.
"The microbiome can be adapted to suit a variety of waterways, both urban and agricultural, so we are excited to see how this product evolves."
Ms Scartozzi says the next steps is to test the effectiveness of the eClean Bioreactor for treating high levels of nitrates in farm drains.
"We have modelled the conditions of the Ashburton trial in the lab and have had a 60 to 85 per cent reductions in nitrates. This region has the highest nitrate levels in the country. During the field trial, we will be running multiple units across a dairy platform and farm drains," she said.