University of Auckland engineering students are delving into the challenges of fortifying marae against future climate emergencies.
When Cyclone Gabrielle wreaked havoc earlier this year, marae throughout the North Island played a pivotal role in providing support to the community.
But how well-prepared are marae for similar future disasters?
Two engineering students, Duncan McDonald and Lux Dhakal, are addressing this concern by assessing the capacity of marae for use during disasters and climate emergencies as part of their honours project.
Their research primarily centres around Ōpeke marae, situated in the Ōpōtiki District in the Bay of Plenty region, which serves as a critical short-term shelter and support hub for the local Ngāti Ira hapū and wider community during emergency events.
Duncan and Lux set out to assess the marae's ability to house 1,000 people for three days after natural disasters or climate emergencies. As a starting point, they delved into international best practices for emergency shelters and applied these standards to evaluate Ōpeke marae's capabilities.
"We looked at what a good emergency shelter would look like and all of the things that you might consider either as sort of definite 'must have' things like food, water and sanitation, and then some of those 'nice to have' extra things," says Duncan.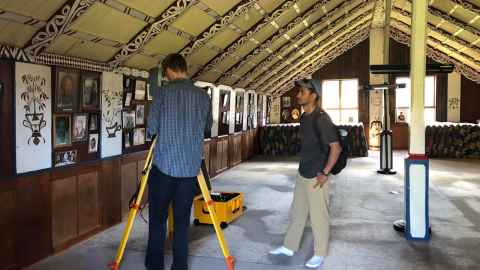 They found that Ōpeke marae boasts several strengths, including its engaged community, extensive local knowledge of nearby resources and a proven ability to cater for large groups.
"The wharenui has been on that site for about 100 years, so there's great community knowledge. We've also got historical evidence that it's a safe place and unchanging even in an area where there's been lots of flooding.
"You can experience earthquakes, volcanoes and kind of everything down there. That's a real strength and, because of that, it's got this great community and grassroots backing behind it and a lot of volunteers."
However, research found that the infrastructure surrounding the marae requires significant upgrades.
Money is always a concern for community shelter providers, so the research recommended focussing on value-for-money disaster-focused additions, such as a generator, satellite/radio communications system and a supply container.
This research also highlights the need for careful planning and understanding the roles of both marae and government agencies to ensure enduring strength.
"When you look at some of the coastal and rural communities in New Zealand, research says that we're some of the best in the world when it comes to our resilience," says Duncan.
"You've got these communities that have been isolated, and especially some of these hapū and iwi, they've sort of said, 'this is our land, and we're staying here'. That means that this idea of community shelter is both an opportunity and a challenge.
"In New Zealand and around the world, it's going to be something that governments need to work out: how are we going to fund and support the innate resilience of these communities?"