Manatū Wāhine the Ministry for Women this week hosted an inspiring panel discussion in collaboration with the National Library of New Zealand as part of a range of commemorations to mark 130 years since women secured the right to vote in Aotearoa New Zealand.
The event on 6 June was opened by Minister for Women, Jan Tinetti, who released Manatū Wāhine's 2022 stocktake of public sector boards and committees, which shows that for the third year in a row, there is equal gender representation on public sector boards, and launched the Leadership Learning Hub.
Hundreds across Aotearoa tuned in online, while guests, including akōnga from Wellington secondary schools, filled the auditorium in Te Whanganui-a-Tara.
The inspirational panel of wāhine was moderated by Caren Rangi and featured Professor Rawinia Higgins, Qiane Matata-Sipu, Nurain Janah and Brooke Roberts, who shared their unique journeys and perspectives on leadership. They reflected on the question "are we there yet?", 130 years on from women securing the right to vote in Aotearoa.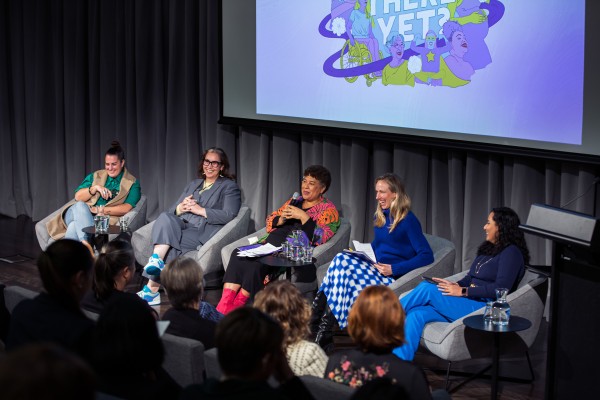 During the discussion, the panel delved into the intersectional challenges faced by women in leadership. They spoke about entering and thriving in traditionally male dominated spaces, and shared important insights from indigenous and women of color perspectives.
They emphasised that true diversity at the leadership table is not a tick-box exercise, and that authentic representation means not only seeing other faces like your own, but having the license, authority, and right, to contribute and be heard.
It was stressed that women should never feel the need to change themselves to contribute, thrive and lead in spaces they are passionate about. The message was clear: "Wāhine can make an impact and drive change without altering their leadership style. You are enough."
The panel highlighted that leadership is not one dimensional. Women are mothers, daughters, sisters, aunties, and leaders of their whānau and within their communities. They encouraged women not to feel constrained by traditional leadership structures and urged them not to wait for permission to continue striving for representation and change. The panel asked a powerful question: "Whose permission are you waiting for?"