Wellington City Council has recognised the achievements of some of its most outstanding young people in this year's Absolutely Positively Wellington Student Awards.
"The awards celebrate the tremendous time, energy and creativity these students have put into making Wellington and our communities great places to live and learn," said Wellington Mayor, Andy Foster.
"Congratulations to all of our winners. It shows just how many talented young people we have in our Capital city," he says.
Eighteen students from 11 Wellington secondary schools were recognised for everything from building a prosthetic arm for a child, to volunteering in the community and campaigning for change.
Deputy Mayor, Sarah Free says the awards, which have run since 2014, highlight the contribution the city's rangitahi (young people) make to the local community.
"You can see them working on national appeals, participating in environmental restoration projects regardless of the weather, spear-heading exciting initiatives in science, technology and cultural wellbeing, supporting the elderly and mentoring their contemporaries."
"These are the country's leaders-in-the-making, making their mark in our communities and on the national and international stages. We are proud of having such fantastic young people calling this city home.
"We also pay tribute to the mahi of their teachers, families and communities who have supported them in their endeavours," says councillor Free.
This year's winners include three Year 10 Scots College students, recognised for designing and building an affordable prosthetic arm, with a bionic hand.
A chance meeting at a school Open Day, introduced Lachlan Stinson, Liam Frampton and Benjamin Trolove (all pictured, main photo) to 3-year-old Avery and her parents. The boys had already designed a prototype of an arm, for a school project and were looking for someone to test it on.
The original plan was to build an arm that Avery could slip on quickly to help her balance on her bike and scooter. But as the project advanced, so did the possibilities to develop a hand that could grip objects.
Locky Stinson says while making the prototype was straight-forward, making it useful was more challenging.
By tapping into the internet and talking to people they researched what was possible. Sourcing electronics that fit a children's arm was challenging, with COVID compounding the delays.
"We developed different joints and tried to use materials that were good for gripping, over time we just learnt more," Locky says.
Silicon was used on the fingers, so they could grip objects. In two terms they created a lower arm with electronics for between $600-$800, a fraction of the $60,000 a prosthetic arm usually costs.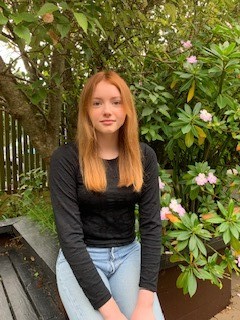 Onslow College's Sophie Crozier was nominated by her school for her "maturity, leadership and creativity in everything she does". The Year 12's work on the 'Make it 16' campaign, which advocated for lowering the voting age to 16, gave her valuable experience helping to organise and publicise at national level.
APW Student Award winner Sophie says the award inspires her to stay focussed and demonstrates how important it is that young people's voices are not only heard but included in future decision making.
"Healthcare and COVID, education and climate change, are all massive issues we have to deal with in the future. A lot of political ideas are linked to youth, so it's weird young people can't vote when these issues have such an impact on their lives."
Kahurangi Douglas, a Year 10 student at St Mary's College, was also a winner.
Kahurangi represented her school at the O'Shea Shield Catholic school's competition in Te Reo Māori scripture reading. Unable to find a senior student confident enough to speak Te Reo, Kahurangi stepped up, even though she is no longer fluent in Māori and was the youngest person in the competition.
For the competition she had to practice and familiarise herself with six large scripture passages, "showing dignity and honour for her school in taking up this wero (challenge)".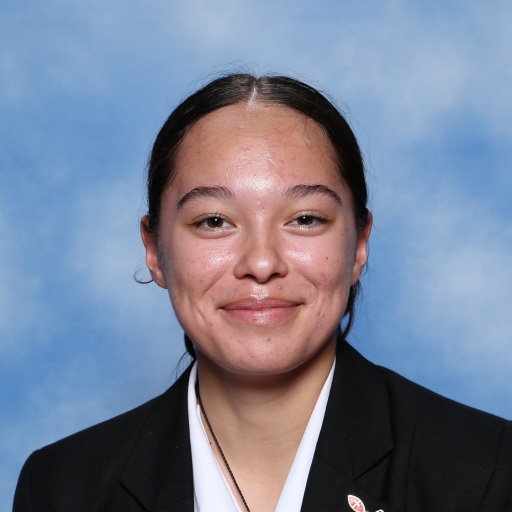 Kahurangi says her award has encouraged her to speak more Māori and it's something she'd like to pursue further.
"One of my goals is to be able to speak Māori fluently again and to be able to become a Te Reo teacher," she says.
For the Scots College students, the APW Student Award is recognition of what they have achieved.
Ben says seeing the improvement in Avery's life and being able to use her arm has been the biggest reward. For Locky it's about seeing the comprehension and happiness on Avery's face when she understood she was in control of the arm using her residual limb muscles, as well as increasing Avery's freedom and ability to not have to rely on others. And Liam says watching Avery able to use and control her bionic arm for the first time was amazing.
They plan to present Avery with the arm so she can have it for Christmas. Next year they will work on refining Avery's arm to ensure it's perfect. And they want to continue developing the arm for other children to use.
Every winner receives a $50 book voucher and a certificate which are presented at the school's prizing giving. A civic function to honour the students, hosted by the Mayor and Deputy Mayor, will be held in the new year